Condominiums and what should you consider, such as: What are they? What are the types of Condominiums and more questions with answers about Condominium in Mississauga and the GTA
What do you own when you purchase a Condominium, who takes care of things in the condo, insurance, affordability, recurring costs, unknown expenses and more!
Or, did you want to see pictures of condominium buildings in Mississauga?

Condominiums
What is a condominium?
A condominium typically refers to a form of legal ownership, as opposed to a style of construction. Condominiums are most often thought of as high-rise residential buildings, but this form of ownership can also apply to townhouse complexes, individual houses and low-rise residential buildings. Condominiums are also known as strata in British Columbia or syndicates of co-ownership is Quebec.
Condominiums consist of two parts. The first part is a collection of private dwellings called "units". Each unit is owned by and registered in the name of the purchaser of the unit. The second part consists of the common elements of the building that may include lobbies, hallways, elevators, recreational facilities, walkways, gardens, etc. Common elements may also include structural elements and mechanical and electrical services. The ownership of these common elements is shared amongst the individual unit owners, as is the cost for their operation, maintenance and ongoing replacement.
Each unit owner has an undivided interest in the common elements of the building. This ownership interest is often referred to as "unit factor". The unit factor for any particular unit will generally be calculated in proportion to the value that the unit has in relation to the total value of all the units in the condominium corporation. The unit factor will tell you what your ownership percentage is in the common elements and will be sued in calculating monthly fees that you must pay towards their upkeep and renewal.
The creation of a condominium is regulated by provincial or territorial condominium legislation and municipal guidelines. It can be created in many different ways. In some provinces, a developer, or other interested party, may register a declaration to create a condominium. An application may be made to have title issued for the units pursuant to an "approved plan of condominium". The operation of condominiums is also governed by provincial or territorial legislation and the condominium corporations own declaration, by-laws and rules.
Once a condominium corporation has been established, a Board of Directors, elected by, and generally made up of, the individual condominium owners, takes responsibility for the management of the corporation's business affairs. There is usually a turnover meeting where this transfer or responsibility takes place. Each unit owner has voting rights at meetings. Your voting rights will generally be in proportion to your unit factor.
What Types of Condominiums Are There?
Residential condominiums can be high-rise or low-rise (under four stories), town or row houses, duplexes (one unit over another), triplexes (stack of three units), single detached houses, stacked townhouses or freehold plots. There are even mixed-use condominiums that are partly residential and partly commercial buildings. They come in various sizes with diverse features and they can be found in almost every price range.
What Do I Own When I Buy a Condominium?
When you buy a condominium, you own your unit, as well as a percentage of the common property elements allocated to the unit. The boundaries of each individual unit and the percentage of common elements you own may vary from condominium to condominium, depending on how they are specified in the condominium's governing documents. Sometimes, the unit boundary can be at the backside of the interior drywall of the unit's dividing walls. Alternatively, the unit boundary can be the centre line of the units walls. The boundaries of your condominium unit are an important consideration at the time of purchase – particularly if alterations and renovations are a potential part of your purchase plan. The unit typically includes any equipment, systems, finishes, etc. that are contained only in the individual unit. The right to use one or more parking spots and storage areas may be included. While you may have exclusive access to parking spot or storage area, you seldom actually own the space itself. For a freehold condominium (or a bare/vacant land condominium), the unit may be the entire house including the exterior walls, the roof and in some cases, the land surrounding the structure. Prior to making a purchase, you may wish to hire a professional surveyor to review the site plan for the condominium corporation so you know exactly where your unit boundaries lay.
Components of building systems that serve more than one unit, such as structural elements and mechanical electrical services, are often considered part of the common property elements, particularly when they are located outside of the unit boundaries specified in the condominium's governing documents. There may be some parts of the condominium complex that are called "exclusive use common property elements". They are outside the unit boundaries, but are for the exclusive use of the owner of a particular unit. Balconies, parking spaces, storage lockers, driveways and front or rear lawn areas are common examples of exclusive use common property elements. It is important to be aware of any exclusive use common property elements before you make an offer to purchase a condominium. While these spaces are exclusive to your use, there may be restrictions on how and when you use them. For instance, you may not be able to park a boat, RV or commercial vehicles in your assigned parking spot. There may also be restrictions on what you can place on your balcony.
Who Takes Care of the Building and Grounds?
Most condominium corporations contract-out the day-to-day operations of the condominium to a property management company under the direction of the condominium Board of Directors. The cleaning of common areas, payment of common area utility bills, operation and maintenance of the central space and domestic hot water heating and air-conditioning systems, snow and garbage removal and the collection of monthly maintenance fees may fall under the jurisdiction of the property manager. There are usually limits on the property managers authority. For example, anything that required a major expenditure, or an expenditure not accounted for in the annual budget, may have to be approved by the Board of Directors. The property manager is not usually responsible for items or operational problems within individuals units, unless they are related to the common elements (e.g. heating systems, roofs, windows, exterior walls).
Some condominiums prefer to deal with the management of daily maintenance themselves. These are sometimes referred to as "self-managed" condominiums. Under this managements style, the Board of Directors – and in some cases, volunteers who are residents or owners – will carry out the day to day tasks of operating the condominium.
It is important when considering the purchase of a particular condominium, to ensure you are comfortable with the management style, whether it is a contract property manager, or self managed. This may have implications on both condominium fees and any obligations you may have towards the operation and maintenance of the building.
The condominium unit owner is responsible for some maintenance duties and the condominium corporation for others. These responsibilities vary from condominium to condominium and should be clearly laid out in the condominium governing documents.
Maintenance duties for the unit owner can include:
Internal unit plumbing, appliances, heating air conditioning or electrical systems that are contained in and serve only that unit.
Cleaning window surfaces that are accessible from inside the unit
Cleaning some parts of the common elements like balconies and patios that are assigned to or exclusive use of the unit holder.
Maintenance duties for the condominium corporation can include:
common plumbing, electrical and heating and air conditioning systems
roof and wall repairs
windows and doors – repairs and replacement
grounds cutting, watering
recreational amenities
parking areas
Any other part of the property that is not part of a unit.
Sometimes the responsibility for maintenance and repair can be shared. For example, a heating and air conditioning (HVAC) system may be part of the common elements, but the unit owner may be responsible for some tasks such as changing filters.
What insurance will I need??
Both the unit owner and the condominium corporation must have insurance. Specific insurance requirements vary from province to province.
The corporation may be responsible for insuring:
common areas and units
The corporations property, such as furniture, equipments, vehicles, etc.
Personal liability – against claims for bodily injury and/or property damage occurring on the condominium property or cause d by some act or omission of the condominium corporation.
Boilers and equipment (for example elevators, HVAC systems etc)
Directors and officers insurance – to respond to claims made personally against a director or officer of the condominium
All perils as per the condominium governing documents.
The unit owner may be responsible for insuring:
personal property contents such as appliances, furniture and jewelry, and items stored in lockers.
Improvement made to the unit (for example, finishing a basement, installing new cabinets).
Check your provincial legislation to find out if insurance for improvements is your responsibility.
Personal liability
Affordability – how much will it cost?
It is important to know how much money you should have set aside to purchase – and live in – the condominium you are considering. Additionally, when you are shopping around and comparing different condominiums, it is important to be aware of the costs (purchase price and monthly fees) that would be incurred for each unit you are considering so that comparisons can be made. This section of the guide will outline common condominium expenses to help you with your budget preparation.
Purchase Price:
For new construction, the purchase price may include:
unit sale price
upgrades (negotiable)
development charges
PST on chattels (e.g. appliance) being purchased with the unit
HST on the sale price
Utility hook up fees
Landscaping fees
In some provinces, two months common expenses to build the reserve fund
Occupancy fees (from occupancy closing to title closing) which may include:
Estimated common expenses based on the disclosure statement budget
Estimated realty taxes on the unit
Interest on the balance is due on closing
warranty program enrollment fees
Any costs over and above the basic unit purchase price should be clearly outlined in the agreement of purchase and sale.You should budget for these charges when you are considering buying.
At final closing you will be required to pay the following costs:
remainder of purchase price
legal fees and disbursements
HST on extras or upgrades to unit finishes, equipment and systems if not included in purchase price
Provincial land transfer tax
Many of these additional costs do not apply to re-sale units, since they were already paid and/or factored into the purchase price.
Recurring Costs:
There are more expenses involved in owning a condominium than just the purchase price. You need to include the following in your budget.
monthly condominium fees or common expenses
property taxes
unit and contents insurance
mortgage payments
amenity fees, such as storage, pool, extra parking, etc if not included in the common expenses
utilities (if not included in common expenses)
telephone, cable and internet access (if not included in common expenses)
A contingency for emergency repairs
Maintenance costs associated with the upkeep of your unit.
Condominium contributions – what's included in my fees?
Unit owners pay a monthly condominium fee to cover their portion of the operating expenses of the common property elements. A portion of this fee is allocated to the reserve fund that is created to ensure that there are sufficient funds available for major repairs and replacements over the life of the building.
Calculation of condominium fees varies by province but is usually specified in the governing documents of the condominium corporation. Condominium fees are usually calculated from the annual operating cost of the entire condominium and divided by the percentage of your contribution to the common expenses (your unit factor) as outlined in the condominium governing documents and/or local legislation.
These fees may include:
Day to day care and upkeep of the common property elements (e.g. snow removal, landscaping, cleaning of common elements including carpets and exterior windows, heating/cooling system maintenance).
Contributions to the reserve fund, which is used to pay for major repairs to, and replacement of, common building systems to ensure the condominium is kept in good repair over the life of the building
Property management fees
Building repair and maintenance
Salaries of condominium employees (e.g. superintendent, security guards, concierge)
Amenities (e.g. use of pool, recreational facilities, party room)
Utilities
The corporations insurance policies
Cable and/or internet access
What is, and is not, included in a condos monthly fees should be clearly outlined in the operating budget. You should be able to find out more about the condominium fees from the vendor, property manager, the Board of Directors, or the developer prior to purchasing a unit. They should be stated in the disclosure statement (for new condos) or in the estoppel or status certificate (for resale condos). These fees may have to be adjusted from time to time to reflect the changing costs of goods and services and the state of the reserve fund. Each adjustment is reflected in the next year's budget.
If the board overestimates the common expenses, the surplus is wholly applied either to future common expenses or is paid into the reserve fund. Refunds are not given to unit owners. If a unit owner sells a unit before the end of the condominium corporations fiscal year, the owner cannot obtain a refund for common expenses but may add it to the units purchase price.
Condominium fees are neither optional nor negotiable. For example, unit owners are required to pay a share toward the care and upkeep of amenities such as swimming pools, regardless of whether or not they plan to actually use the pool. Unit owners cannot withhold payment of their condominium fees if they are displeased with the Board of Directors, the property manager or other unit owners. In some provinces, the condominium corporation can register a lien on your unit if you do not pay your share of the common expenses. This means the corporation may have the right to sell the unit to recover the money it is owned.
Extraordinary Expenses
If the condominium has a short-fall in the operating budget or reserve fund, or unforeseen events occur (for example, a rise in heating costs or a need for a major repair or renovation, the higher cost will necessitate an increase in your contribution.
When this happens, each owner could be given a special assessment charge. The amount owned by each owner is calculated by the percentage of ownership, or unit factor as previously discussed. The amount owned by the owner may be either added as a lump sum to one month of an owners regularly monthly condominium fees, or, it could be spread over a period of time by increasing a number of monthly condominium fees. Special assessment are uncommon but in some cases, such as where funds are needed for major repairs, they can be substantial. This is why it is important to review the financial statements, reserve fund level, building condition surveys, inspection reports, maintenance history and the estoppel or status certificate for the corporation before you commit to buying. The following section will provide you with more information in this regard.
Questions to ask in choosing a condo
What is the current state of construction, and how quickly can it be expected to progress?
Does the occupancy date meet my requirements?
Can the occupancy date be changed and under what conditions?
Is the building type (i.e. high-rise, townhouse, freehold/bare land, loft) the one I really want?
Will a provincial new home warranty program cover the unit?
What is the purchase cost of the unit, and what is included in that cost?
What other costs will I have to cover when I take ownership, and how much should I expect to pay for each?
What are the current monthly condominium fees, and what do they include?
What mortgage interest rates are available?
What kind of mortgage is right for me?
Will I be able to meet all of my financial obligations if I buy this condo?
Will in need mortgage insurance and if so, what does it cost?
How do I know if a condominium is in good financial condition?
The financial well being of the condominium corporation is an important consideration. Buying into a condominium corporation that is insufficiently funded to operate and maintain common elements is a risky proposition. Low condominium fees may make one condominium more appealing that others, but it may be a sign that the condominium corporation is ill-prepared to fund major repairs and renewal projects. As a result, the condition of the condominium property can deteriorate or you may be faced with substantial charges from the condominium to cover repair costs as they occur. Fortunately there are ways to determine the financial status of the condominium based on the documentation that the condominium corporation is obliged to keep, such as the annual operating budgets and end of the year financial statements. For resale condos, check the estoppel or status certificate. For new condos review the disclosure statement. An important part of the operating budget is the reserve or contingency fund.
The condominium reserve fund
The purpose of a reserve fund is to provide financing for major repairs and renewal projects over the life of the condominium building. The fund essentially ensures that the condominium common elements will be maintained in good shape for the life of the project. The amount required to be in the reserve fun depends up on the condition and life expectancy of all of the common elements in the building and the estimated cost to replace them over the life of the project. The amount each unit owner is required to contribute to the reserve fund, usually via monthly condominium fees, is determined by estimating what would have to be set aside on a monthly basis to cover the long-term costs.
Reserve fund studies are updated from time to time, depending on provincial regulations or at the discretion of the condominium corporation. The studies are conducted professionals capable of assessing the condition of the common elements of the building, estimating remaining life spans and the related repair and/or replacement costs.
Based on their observations, the reserve fund study professionals estimate the monthly or Annual contributions necessary to fund the long-term renewal of the common elements.After receiving the reserve fund study, the board of directors can propose a plan for the Sustainability of the fund, including monthly contributions from owners as part of the Condominium fees. In some provinces this is mandatory, while in others it is optional.
You do not want to move in your new home only to discover that the reserve fund is under-funded and major repairs are required. This could mean a significant increase in condominium fees or the levying of charges, commonly known as special assessments, to the unit owners by the condominium corporation to pay for the needed repairs. Special assessment charges can be high depending on the type of work required. Ensure you obtain and review either the disclosure statement or the estoppel or status certificate to determine the current state of the reserve fund.
How do I know if a condominium is in good physical condition?
Very often, new condominiums are protected by new home warranty programs that ensure the common property and individual units are in good condition. In such cases, an inspection will be conducted to ensure that the condominium is properly constructed and finished. Any defects in or omissions of warrantied elements will be listed and the developer may be obliged to correct them if they are material. Long-term warranties on major components such as structural elements can run for as long as 5–7 years after a building is completed. At this point, a performance or technical audit may be conducted to identify deficiencies before the warranty expires. For existing condominiums, the condition of the unit and building you are considering buying can be determined by a review of technical audits (essentially a building-wide inspection) done in conjunction with reserve fund studies. These audits will provide you with an overview of the condition of the building and common elements, but not necessarily of any of the individual units. A technical audit may be available as a part of the reserve fund study in some provinces. Avoid any surprises and ask to see these reports before you make your decision.
You should also consider hiring a qualified home inspector, who specializes in the type of condominium you are thinking of buying, to inspect the unit and building. The inspector should have condominium experience and provide a detailed written report on the unit and visible common elements, whether any repairs are necessary and the estimated cost. If more than one set of repairs is necessary, the report should put them in order of priority—what needs to be fixed first, and what can wait. It is always a good idea to examine the inspection contract very closely to determine what exclusions or disclaimers it contains. Ask for the credentials of the inspectors (e.g., membership in the Canadian Association of Home and Property Inspectors) or (is the inspection firm licensed provincially) and ask for proof of errors and omissions insurance. If a costly repair is required that was missed in the report, the inspector might be financially responsible to compensate you for the repairs.
If you suspect that there may be an indoor air quality problem (IAQ) in the unit you are purchasing, an IAQ investigation can be arranged. An initial IAQ inspection can provide a subjective evaluation of the air quality of the unit and identify the potential presence of mold, airborne particulates, volatile organic compounds, poor ventilation, and odours from other units and other sources of IAQ problems. For a list of people who have completed Canada Mortgage and Housing Corporation's Residential IAQ Investigator Training Program and further guidance on hiring an inspector for a prepurchase inspection, call 1-800-668-2642 or consult CMHC's website at www.cmhc.ca.
Physical Checklist
Use this checklist to evaluate the physical state of the condo:
Common Elements — Interior
Lobby is clean and in good repair, exterior doors, locks and security system functional
Recreational amenities (if any) are in good working order and clean
Elevators are clean and functional
Corridors are clean, well-lit, odour-free, carpets in good repair, paint unmarked
Stairwells are well-lit, doors and door handles are functional
Common basement or locker facilities are well-lit, clean and dry
No signs of water leaks or mold
Underground parking structure does not show any evidence of leaks or concrete deterioration
All areas meet your needs for ease of accessibility
Common Elements — Exterior
Garbage in receptacles/dumpsters
Snow and ice removed from walkways and parking areas
Amenities are clean and in good repair, including external recreational facilities and landscaping
Exterior walls are not cracked, corroded or water-stained
Balcony railings are rigid, rust-free and balcony slabs are not breaking up
Roadways, sidewalks and parking areas are in good shape with no standing water
Block heaters are functional
Good pathway and parking lot lighting
Walls: no water stains, corrosion, loose siding, white marks on brick
Lawn, fences, playground structures and landscaping are in good condition
Unit
Favourable initial reaction to odours upon entering the unit
Exterior door to unit is in good repair, with unmarked paint and functioning latch and locks
Drywall not dented or broken
Paint unmarked
Flooring (including tile, hardwood and carpeting) clean and in good repair, with no stains, holes or burn marks
Smoke detectors are present
Interior doors in good repair, open and close easily and latches/knobs functional
Windows open, shut and lock easily, glass is unscratched, no noticeable
drafts, no mold, seals in place
No visible water-stain marks/damaged drywall around windows, near floors or ceilings
All light fixtures are operational
Appliances (if included) are functional, clean and in good repair
Plumbing does not drip
Toilets flush and refill properly
Bathtub and shower walls are clean and solid
Electrical sockets function
Kitchen cupboards in good repair with functional doors and no signs of pests (insects or mouse droppings)
Basement is dry, there are no obvious odours and free from evidence of water damage (indicates previous flood)
Basement sump-pump in the unit is functional (if applicable)
Unit heating and air-conditioning system working
Exhaust fans in kitchen and bathroom are operational
And Finally . . .
Condominiums have much to offer as a homeownership option. Each condominium is unique, as is each potential condominium buyer. When considering the purchase of a condominium, it is important to compare attributes such as features, physical and financial condition, lifestyle opportunities as well as the costs. Being an informed consumer will help make your condominium purchase and ownership a pleasant experience. Furthermore, it will also ensure that you are fully aware of what owning a condominium involves and how to make a sound purchase decision. Buying a condominium is an investment— both emotionally and financially—and you should be comfortable with the answers you receive from vendors, real estate agents, lawyers, financial advisers, developers, directors, property managers, inspectors and current occupants before making your purchase decision.
From: RE/MAX Condos Plus RE/MAX Ontario-Atlantic Canada Point Blank Communications Sept. 03.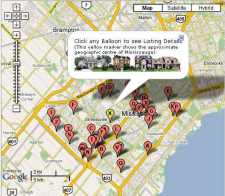 ---
Real Estate Market Watch Newsletter
Why Subscribe? You will receive valuable
Real Estate information on a monthly basis – such as: where to find the
'best' mortgage interest rates, Power
of Sale properties and graphs of current house price trends. Plus,
you will pick up ideas, suggestions and excellent real estate advice when
you sell or buy your next home. Read
Past Newsletters before you decide Privacy-Policy

Mississauga MLS Real Estate Properties & MLS.CA Homes for Sale | All Pages including Mississauga Real Estate Blog all maintained by mark@mississauga4sale.com Copyright © A. Mark Argentino, P.Eng., Broker, RE/MAX Realty Specialists Inc., Brokerage, Mississauga, Ontario, Canada L5M 7A1 (905) 828-3434 First created - Tuesday, July 16th, 1996 at 3:48:41 PM - Last update of this page: Tuesday, January 23rd, 2018
At this Mississauga, (Erin Mills, Churchill Meadows, Sawmill Valley, Credit Mills and or Meadowvale ) Ontario, Canada Real Estate Property Internet web site you will find relevant information to help you and your family.