Condos, Co-op, Co-own Building Names in Mississauga
Below are most of the condominium buildings in the GTA organized by their Building names with their municipal addresses
Or, did you want to see pictures of condominium buildings in Mississauga?
This section contains an alphabetical list of Condominium, Co-operative and Co-ownership building names and their corresponding municipal address.
Select the first letter of building name.
Do you want to see or are there condominium buildings in Mississauga that you would like me to send you the MLS listings?  All you have to do is enter the addresses here and I will send you the MLS listings
Reminder: Check under the "T's" if you can't find the name you are looking for. The Building Name may start with the word "The".
MISSISSAUGA CONDOS
Anaheim Towers Condos, 4185 & 4205 Shipp Drive Mississauga
Applewood Landmark Condos, 1300 Bloor St. Mississauga
Applewood Place Condos, 1333 Bloor St. Mississauga
Canyon Springs Condos, 1700 The Collegeway Mississauga
The Carlisle Group Condos, 115, 145 & 155 Hillcrest Avenue Mississauga
City Gate Condos, 3939 Duke of York Blvd. Mississauga
Club I Condos Condos, 300 Webb Drive Mississauga
The Colony Condos, 180 Mississauga
Valley Blvd. Mississauga
Conservatory Group Condos, 400 Webb Drive Mississauga
Enfield Place Condos, 265 & 285 Enfield Place Mississauga
The Esprit Condos, 50 Eglington Avenue, Mississauga
The Fairways Condos, 1400 Dixie Road Mississauga
Granite Gates Condos, 1800 The Collegeway Missisauga The Kingsmere Condos, 880 Dundas Street West Mississauga
Lyndwood In The Park Condos, 3100 Kirwin Avenue Mississauga
The Monarchy Condos, 325 & 335 Webb Drive Mississauga
The New Yorker Condos, 2581 Confederation Pkwy. Mississauga
No. 1 City Centre Condos, 1 & 33 Elm Drive West Mississauga
Oblisk I Condos, 3590 Kaneff Cres. Mississauga
Odyssey Condos, 250 Webb Drive Mississauga
The Ovation Condos, 3880 Duke of York Boulevard Mississauga
The Park Mansion Condos, 45 & 55 Kingsbridge Garden Circle Mississauga
Phoenix Condos, 550 Webb Drive Mississauga
Place Avant Condos, 3700 Kaneff Crescent Mississauga
Place Four Condos, 3650 Kaneff Crescent, Mississauga
Place Royal Condos, 3695 Kaneff Crescent Mississauga
The Carlisle Group Condos, 115, 145 & 155 Hillcrest Avenue Mississauga
The Colony Condos, 180 Mississauga
The Ovation Condos, 3880 Duke of York Boulevard Mississauga
The Park Mansion Condos, 45 & 55 Kingsbridge Garden Circle Mississauga
The Esprit Condos, 50 Eglington Avenue, Mississauga
The Fairways Condos, 1400 Dixie Road Mississauga
The Platinum Condos, 350 Webb Drive Mississauga
Sherwoodtowne Condos, 4235 Sherwoodtowne Blvd Mississauga
The Skymark Towers Condos, 25 & 35 Kingsbridge Garden Circle Mississauga
Demand for condominium apartments and townhomes on the upswing in the GTA, says RE/MAX
For immediate release Toronto, Ont. Low interest rates have bolstered condominium apartment and townhouse sales in the Greater Toronto Area in recent months, says RE/MAX. Sales are up marginally over last year's record-setting pace, rising from approximately 15,500 to almost 16,100 units year-to-date, according to Toronto Real Estate Board data. Condominium apartments and townhomes now represent 31.1 per cent of all homes sold in the GTA, up from 29.6 per cent in July.
"We're at the point where close to one in every three homes sold is a condominium apartment or
townhome," says Pamela Alexander, CEO, RE/MAX Ontario-Atlantic Canada. "Given current market conditions, we expect to see even stronger activity in coming months. Clearly, the sky is not falling on the condominium market."
In fact, condominium sales in August were up by 25 per cent over the same month last year. In the downtown core and the Etobicoke waterfront, sales were up by 37 per cent and 50 per cent respectively during the same period. In spite of the upswing, fewer sales are occurring in the under $150,000 price range. Sales in that segment of the market are down 25 per cent year-to-date. By comparison, sales of condominiums priced over $150,000 have increased significantly, in large part reflecting the price appreciation that has occurred over the past year.
Sales of condominiums priced between $200,000-$300,000 have experienced the greatest increase, rising 20.3 per cent over 2002 levels. The luxury condominium market, priced over $500,000, is also on the rise, with sales up 19 per cent over one year ago. Mid-range condominiums, priced between $300,000 and $500,000, are up 14.3 per cent
while those priced from $150,000 to $200,000 were up 8.8 per cent over the same period one year ago.
"Selection and affordability are key factors in today's marketplace," says Jamie Johnston, Broker-Owner, RE/MAX Condos Plus, situated in downtown Toronto. "There is an ample supply of condominiums currently listed for sale – a fact best underscored by statistics. With condominiums representing 63 per cent of all new listings in the central core, there's no question that those coming on stream are being absorbed by the market. In August, for example, condominiums represented 64 per cent of total sales in the central core. Clearly, supply is meeting demand."
In addition, the influx of condominium units in the downtown core is expected to ease over the next two years. Only the Water Club, Radio City and Water Park developments are under construction – no other major projects are scheduled for completion over the next 18 to 24 months.
"A balanced market is an ideal environment for both buyers and sellers," explains Johnston. "And as long as
inventory levels hold, condominium prices will be held in check. "
Condominiums as Percentage of Total Sales in the GTA January – August 2003 First-time buyers have been a driving force in the residential condo market for quite some time. Last year, says Johnston, approximately 63 per cent of condominiums in the GTA sold for under $200,000. This year, that figure has dropped to 57.5 per cent, down more than five per cent from one year ago. Not surprisingly, very few of those condominiums are located in the central core. First-time buyers typically find the cost of a starter condominium in the downtown core prohibitive. As a result, many are purchasing smaller studio units or investigating options in the north, east, and west end of the city. Move-up buyers and empty nesters are behind the push for condominiums on the waterfront.
"We suspect that move-up buyers and retirees will fuel demand for higher-priced condominium units in the central core this fall."
Investors continue to be noticeably absent from the marketplace due to rising vacancy rates and lower rent. RE/MAX is Canada's leading real estate organization with over 11,600 sales associates in more than 540 independently-owned and operated offices. The RE/MAX franchise network, now in its 30th year of consecutive growth, is a global real estate system operating in over 44 countries. More than 4,600 independently-owned offices engage 84,000 member sales associates who lead the industry in professional designations, experience and production while providing real estate services in residential, commercial, referral, relocation and asset management. For more information, visit: www.remax.ca.
From: RE/MAX Condos Plus RE/MAX Ontario-Atlantic Canada Point Blank Communications Sept. 03.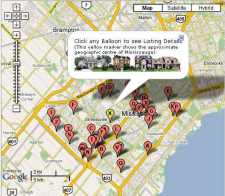 ---
Real Estate Market Watch Newsletter
Why Subscribe?  You will receive valuable Real Estate information on a monthly basis – such as: where to find the 'best' mortgage interest rates, Power of Sale properties and graphs of current house price trends.  Plus, you will pick up ideas, suggestions and excellent real estate advice when you sell or buy your next home. Read Past Newsletters before you decide  Privacy-Policy
Mississauga MLS Real Estate Properties & MLS.CA Homes for Sale  | All Pages including Mississauga Real Estate Blog all maintained by mark@mississauga4sale.com Copyright © A. Mark Argentino, P.Eng., Broker, RE/MAX Realty Specialists Inc., Brokerage, Mississauga, Ontario, Canada L5M 7A1 (905) 828-3434  First created – Tuesday, July 16th, 1996 at 3:48:41 PM – Last update of this page: Sunday, February 25th, 2018
At this Mississauga, (Erin Mills, Churchill Meadows, Sawmill Valley, Credit Mills and or Meadowvale ) Ontario, Canada Real Estate Property Internet web site you will find relevant information to help you and your family.