You are here:
TREB (Toronto Real Estate Board) Average Single Family Historical Home Prices and trends for Toronto and Mississauga

February 2007 Press Release and Stats
Strong Start for 2007
February 6, 2007 -- The new year got off to a fast start, with 5,173 sales of existing homes in January, TREB President Dorothy Mason announced today. "This figure is up 13 per cent over last January, and up six per cent over the 4,869 sales recorded in January of 2002, which was the previous record for the month."
Meanwhile, average prices climbed in January to $353,724, up five per cent over December and up six per cent over the $332,687 recorded in January 2006. "While one shouldn't read too much into a single month's result," the President said. "January's record breaking performance is an encouraging sign for the year ahead."
his is the news release that was issued by the Toronto Real Estate Board.
The Year ends with a strong December

TORONTO, February 6, 2007 -- The January resale housing market was the best January ever, registering 13 per cent more transactions than a year ago, Toronto Real Estate Board President Dorothy Mason announced today. The 5,173 sales in the month were six per cent above the previous record set in January 2002.
"Sales have been very solid to start the year," Mrs. Mason said. "It's a very good sign for the market to see a healthy level of activity carrying over from last year's strong finish."
Scarborough's Birchmount Park / Cliffside area (E06) saw 55 per cent more overall sales compared to last January, with detached homes accounting for nearly all transactions.
In the Islington / Kingsway area of Etobicoke, a jump in condominium transactions helped to push overall sales 42 per cent higher than January 2006.
An increase in sales of condominiums and semi-detached homes helped lift Forest Hill to an overall increase of 56 per cent over January of last year.
North of the city, in Markham West / Langstaff (N01), 50 per cent more homes changed hands in January than during the same month a year ago.
Ted Tsiakopoulos, CMHC's Ontario regional economist, noted that Toronto's housing market has been a very stable sector of the economy.
"The market remains resilient despite slower job growth, high energy prices, and a loss of migrants to western Canada," Mr. Tsiakopoulos said. "Historically low interest rates, strong income growth and healthy consumer confidence are important factors keeping January home sales buoyant across the GTA."
TREB's President added that while the results are preliminary, they should instill confidence in consumers.
"The housing market is healthy and continues to be well supported by strong economic fundamentals," Mrs. Mason said. "These are ideal conditions, and consumers can feel confident making a switch to another home or realizing their dream of home ownership for the first time."
Below is a Graph showing TREB Historical Average Price Data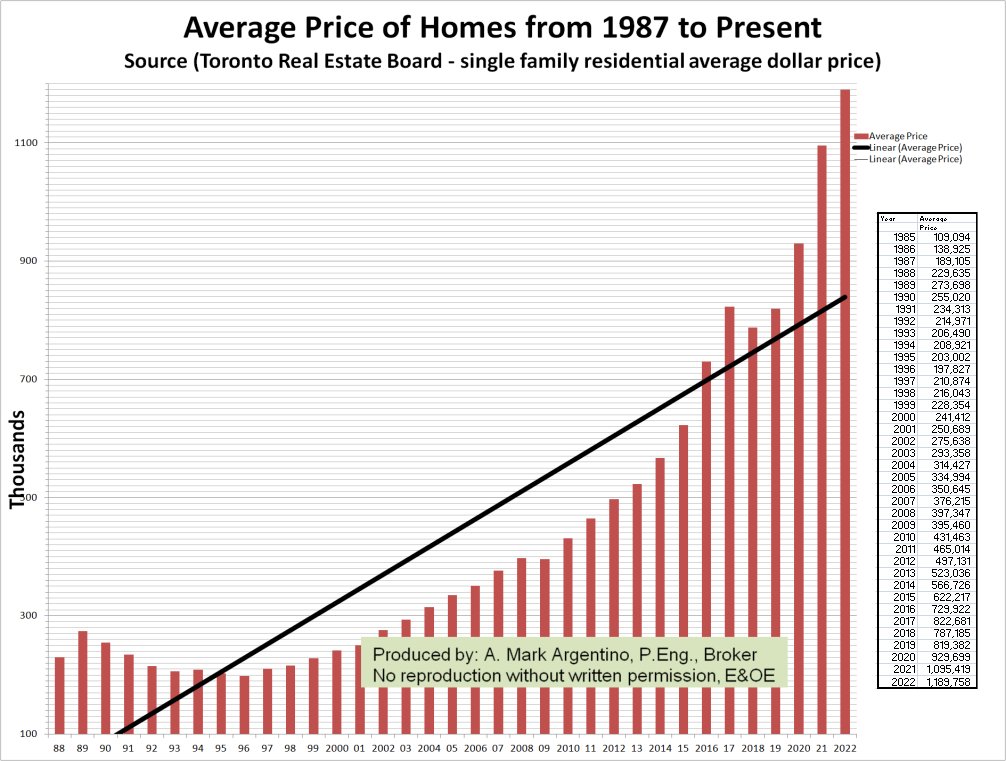 See the Average Price Cycles from January 1995 to Date - a very interesting cyclical pattern is clearly seen!

See how the historical 1 year mortgage interest rate compares to the 5 year rate
Breaking down the total Numbers into TREB Areas for this month
Please browse here if you wish to see all the TREB Sales stats for 2006
January 2007 Sales figures
1,975 sales were reported in TREB's 28 West districts and averaged $335,116
878 sales were reported in the 14 Central districts and averaged $462,211
1,082 sales were reported in the 23 North districts and averaged $383,806
1,238 sales were reported in TREB's 21 East districts and averaged $280,178.
See last year's sales figures
Neighbourhood Corner - Mississauga - Each month The Toronto Real Estate Board profiles a neighbourhood and for January of 2006 TREB chose Mississauga!
Mississauga 2006
Mississauga (MLS districts W12 to W20) had 608 sales in January, up seven per cent over the figure recorded in January of 2005. These sales averaged $305,464, a two per cent increase over last January. Breaking down the total, there were 201 sales of detached homes, which averaged $448,889; there were 171 sales of condominium apartments, and the average for these was $193,481.
Mississauga 2005
There were 569 sales in the Mississauga area during January, down 12 per cent from the figure recorded in January of 2004. The average price, however, rose seven per cent to $298,503. Breaking down the total, detached homes in Mississauga (203 sales) averaged about $418,655, while semis (121 sales) came in at $279,025.
Neighbourhood Corner January 2004 for Mississauga
The Mississauga area (W-12 through W-20) registered 645 sales in January, down 10 per cent from the 721 recorded during the same time-frame in 2003. However, the overall average in Mississauga came to $277,594, up seven percent over the $259,207 recorded in January of last year. Average days-on-market was 43, about the same as the Board-wide figure of 42.
Neighbourhood Corner Information - Mississauga (from January 2003)
In Mississauga (W-12 to W-20) the latter half of this year saw prices climb 10 per cent to $256,824 over the $233,151 recorded for the whole of 2001. Average Days-on-Market in Mississauga was 34, as compared to a city-wide average of 38 days.
---
Housing prices in selected areas of the GTA

Municipality
Standard Condo Apt.
Standard Two Storey House
Standard Town House
Senior Executive House
Brampton
155,000
280,000
210,000
585,000
Burlington
181,000
275,000
181,000
490,000
Markham
260,000
358,000
245,000
465,000
Mississauga
185,000
290,000
206,500
490,000
Oakville
225,000
290,000
220,000
600,000
Richmond Hill
225,000
290,000
225,000
410,000

Toronto - Etobicoke (Islington

Kingsway)

210,000
415,000
232,000
640,000
Toronto - Leaside
250,000
645,000
350,000
950,000
Source: Survey of Canadian House Prices, Fourth Quarter 2004 Prices as of Oct.-Dec. 2004 (CDN $)
Rental Market indicators in the GTA
---
This chart shows the breakdown of single family residential sales for last month.

Housing Market Indicators

This month

This month

% Change

Sales*

8,084

7,329

(-9%)

less sales

New Listings*

12,059

12,012

( -- )

equal listings

Active Listings*

20,063

22,368

(+11%)

more listings all =
softer market and prices
* All figures above for Single-Family Dwellings.
Totals for this last month
| | | | |
| --- | --- | --- | --- |
| Dwelling Type | Sales | % | Median |
| Detached | 4,622 | 98 | $340,000 |
| Semi Detached | 1,171 | 99 | $271,000 |
| Condo Townhouse | 865 | 98 | $214,000 |
| Condo Apt. | 1,643 | 97 | $191,000 |
| Link | 250 | 98 | $256,250 |
| | 596 | 99 | $254,750 |
| Co-op Apt. | 37 | 97 | $166,000 |
| Detached Condo | 9 | 97 | $214,000 |
Previous Month
average prices 2005
---
This is a graphical representation showing the percentage of homes that sold in each price range.

Archived issues of my TREB Market Watch reports
Excellent, I am ready for an online evaluation
Mississauga MLS Real Estate Properties & MLS.CA Homes for Sale | All Pages including Mississauga Real Estate Blog all maintained by info@mississauga4sale.com Copyright © A. Mark Argentino, P.Eng., Broker, RE/MAX Realty Specialists Inc., Brokerage, Mississauga, Ontario, Canada L5M 7A1 (905) 828-3434 Google First created - Tuesday, July 16th, 1996 at 3:48:41 PM - Last Update of this website: Thursday, February 1, 2018 9:30 AM
At this Mississauga, (Erin Mills, Churchill Meadows, Sawmill Valley, Credit Mills and or Meadowvale ) Ontario, Canada Real Estate Homes and Property Internet web site you will find relevant information to help you and your family.
---
Real Estate Market Watch Newsletter
Why Subscribe?
You will receive valuable Real Estate information on a monthly basis - such as: where to find the 'best' mortgage interest rates, Power of Sale Properties and graphs of current house price trends. Plus, you will pick up ideas, suggestions and excellent real estate advice when you sell or buy your next home. Read Past Newsletters before you decide
Privacy-Policy