You are here:
TREB Average Single Family Historical Home Prices for Toronto and Mississauga

Graph of TREB Prices Rental Market indicators in the GTA

Graph showing TREB Historical Average Price Data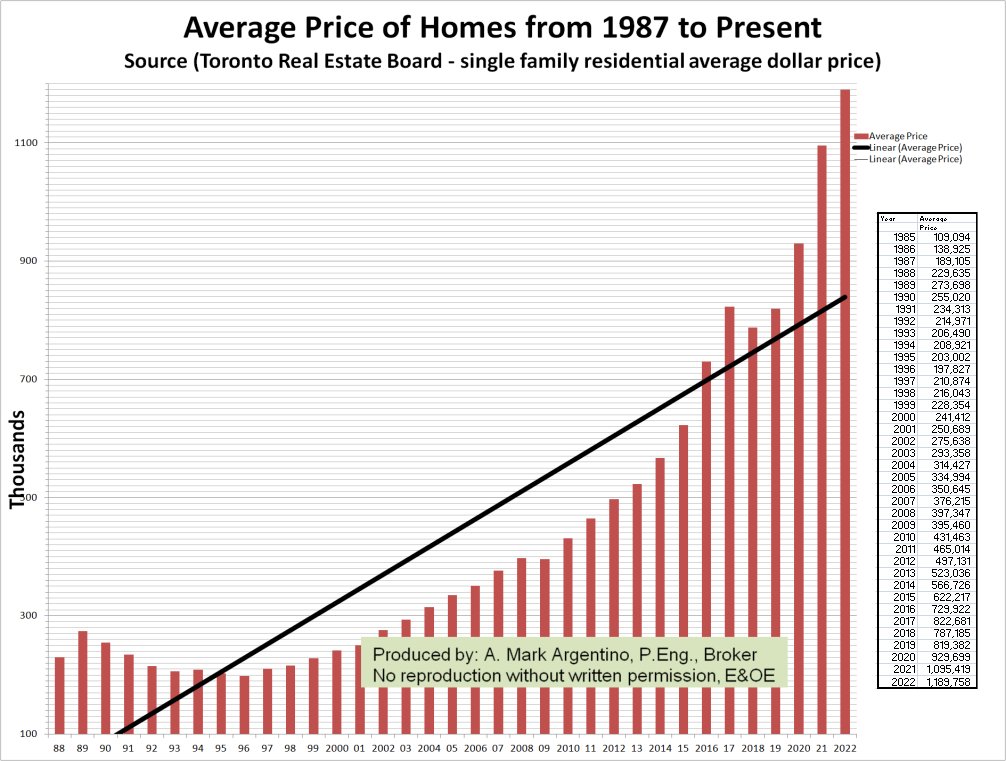 See the Average Price Cycles from January 1995 to Date - a very interesting cyclical pattern is clearly seen!

See how the historical 1 year mortgage interest rate compares to the 5 year rate

---
This chart shows the breakdown of single family residential sales for last month.

Rental Housing
Toronto's rental stock varies widely in structure, ownership and price. About half of the rental stock is conventional, purpose-built apartments built by the private sector. The other half consists of houses, apartments and co-operatives in the social housing sector.
Rental vacancy rates have been relatively low throughout the last decade but this trend has reversed in the last three years. The building of condominiums, some of which are rented or sublet, has eased pressure on rental accommodations.
Source: Canada Mortgage and Housing Corporation, Vacancy Rate Survey, 2003.
Municipality
Standard Condominium Apartment
Standard Two Storey House
Standard Townhouse
Senior Executive House
Brampton
1,250
1,800
1,450
3,000
Burlington
1,200
1,650
1,200
2,500
Markham
1,500
2,250
1,600
2,750
Mississauga
1,350
1,850
1,600
3,000
Oakville
1,500
1,900
1,500
3,500
Richmond Hill
1,400
1,550
1,400
2,400
Toronto - Etobicoke (Islington/Kingsway)
1,500
2,000
1,500
4,000
Leaside
2,200
3,200
2,500
4,200
Source: Survey of Canadian House Prices, Fourth Quarter 2004.
Municipality
Bachelor
1-Bdrm2-Bdrm
3-Bdrm +
Ajax/Pickering/Uxbridge
n.a.
741922
n.a.
Aurora/Newmarket/Whitchurch-Stouffville
558
767885
n.a.
Brampton
674
8721,026
1,118
Halton Hills/Milton
n.a.
790892
n.a.
Markham
607
829982
1,127
Oakville
703
8981,047
1,251
Richmond Hill/Vaughan
n.a.
8621,008
1,187
Toronto City
757
9551,244
1,786
Mississauga
690
9031,045
1,153
Source: Canada Mortgage and Housing Corporation, Rental Market Report 2002.
Excellent, I am ready for an online evaluation
Mississauga MLS Real Estate Properties & MLS.CA Homes for Sale | All Pages including Mississauga Real Estate Blog all maintained by info@mississauga4sale.com Copyright © A. Mark Argentino, P.Eng., Broker, RE/MAX Realty Specialists Inc., Brokerage, Mississauga, Ontario, Canada L5M 7A1 (905) 828-3434 Google First created - Tuesday, July 16th, 1996 at 3:48:41 PM - Last Update of this website: Thursday, July 4, 2019 8:18 AM
At this Mississauga, (Erin Mills, Churchill Meadows, Sawmill Valley, Credit Mills and / or Meadowvale ) Ontario, Canada Real Estate Homes and Property Internet web site you will find relevant information to help you and your family.
---
Real Estate Market Watch Newsletter
Why Subscribe?
You will receive valuable Real Estate information on a monthly basis - such as: where to find the 'best' mortgage interest rates, Power of Sale Properties and graphs of current house price trends. Plus, you will pick up ideas, suggestions and excellent real estate advice when you sell or buy your next home. Read Past Newsletters before you decide
Privacy-Policy