You are here:
2006 TREB (Toronto Real Estate Board) Average Single Family Historical Home Prices and trends for Toronto and Mississauga

This is a short summary of the Real Estate Market in Toronto and the GTA for 2006
2006 Ends On a High Note

The average single family residential price increased the following amounts in the past few years
Year

Average % Price Increase

Average Price

2006

5

350,645

2005

7

334,994

2004

7

314,427

2003

7

293,358

2002

10

275,371

2001

4

250,689

2000

6

241,412

1999

5

228,372

1998

3

216,815

1997

7

211,307

1996

-2

198,150
The table above shows that prices have increased steadily since 1997, nearly 10 years of unprecedented growth. These figures give an overall trend of the average prices of single family residential prices in the Toronto and GTA marketplace.
Of note is the fact that although the central core prices of real estate have escalated at a much higher rate than the values above. TREB (the Toronto Real Estate Board) has continued it's expansion of MLS boundaries and therefore the average prices above take into account cities and towns that are much further out from the core that have much lower average prices compared to the city core. This shows how great of an impact the high prices in the central city have on the overall price. I don't know exactly how many kilometers of outward growth that TREB experienced over the past 10 years, but I would guess that at least tens of thousands of new properties have been taken into account when calculating the year over year figures.
If prices from 2007 for the next 5 years were to increase at an annual rate of 4% then the average price would be over $460,000 in 2013. The graph below shows this estimated price incrase
Below is a Graph showing TREB Historical Average Price Data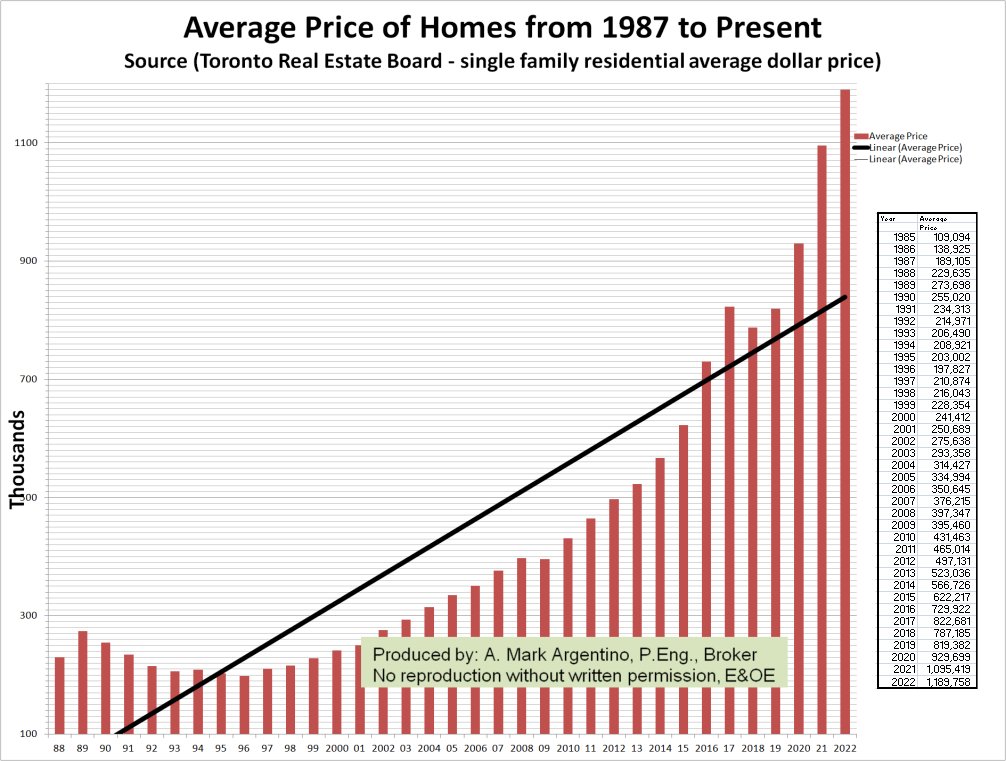 See the Average Price Cycles from January 1995 to Date - a very interesting cyclical pattern is clearly seen!

See how the historical 1 year mortgage interest rate compares to the 5 year rate
Archived issues of my TREB Market Watch reports
This information is taken from the TREB (Toronto Real Estate Board) average price figures that are published on a monthly basis for members like myself.
I hope you have enjoyed reading this page.
If you have any
Excellent, I am ready for an online evaluation
Mississauga MLS Real Estate Properties & MLS.CA Homes for Sale | All Pages including Mississauga Real Estate Blog all maintained by info@mississauga4sale.com Copyright © A. Mark Argentino, P.Eng., Broker, RE/MAX Realty Specialists Inc., Brokerage, Mississauga, Ontario, Canada L5M 7A1 (905) 828-3434 Google First created - Tuesday, July 16th, 1996 at 3:48:41 PM - Last Update of this website: Sunday, September 1, 2019 9:29 AM
At this Mississauga, (Erin Mills, Churchill Meadows, Sawmill Valley, Credit Mills and/or Meadowvale ) Ontario, Canada Real Estate Homes and Property Internet web site you will find relevant information to help you and your family.
---
Real Estate Market Watch Newsletter
Why Subscribe?
You will receive valuable Real Estate information on a monthly basis - such as: where to find the 'best' mortgage interest rates, Power of Sale Properties and graphs of current house price trends. Plus, you will pick up ideas, suggestions and excellent real estate advice when you sell or buy your next home. Read Past Newsletters before you decide
Privacy-Policy