Toronto REALTORS® are passionate about their work. They adhere to a strict code of ethics and share a state-of-the-art Multiple Listing Service designed exclusively for REALTORS®. Serving more than 24,000 Members in the Greater Toronto Area, the Toronto Real Estate Board is Canada's largest real estate board. Greater Toronto Area open house listings are now available on www.TorontoRealEstateBoard.com.

Summary of TorontoMLS Sales and Average Price
Sales by housing type
Below is a Graph showing TREB Historical Average Price Data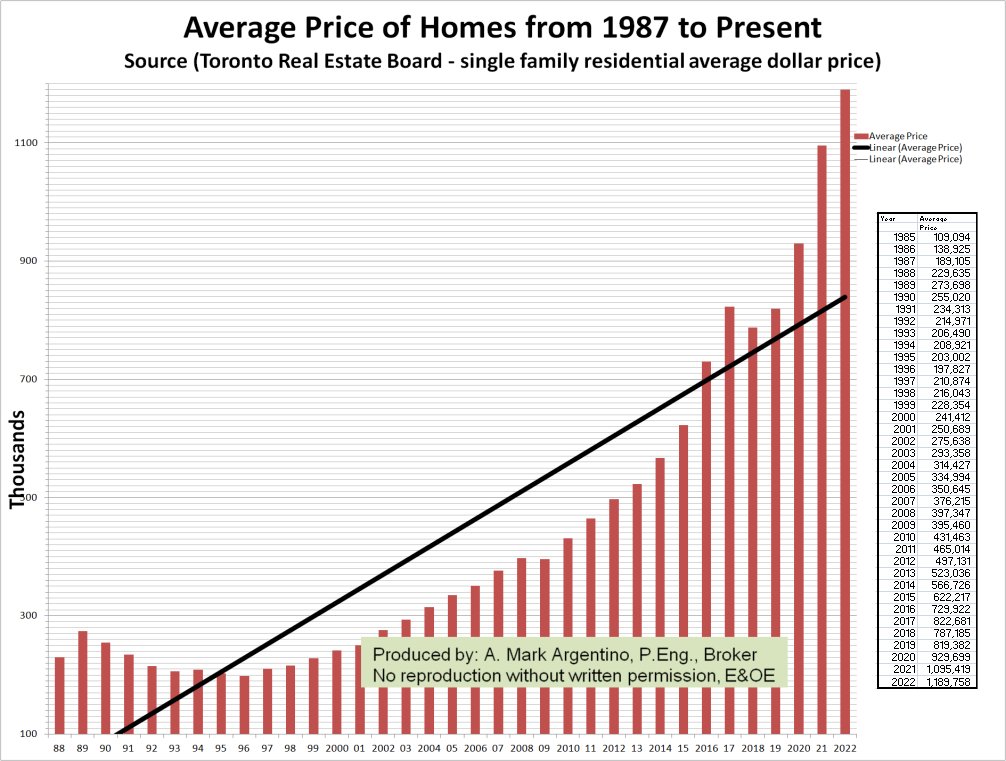 See the Average Price Cycles from January 1995 to Date - a very interesting cyclical pattern is clearly seen!


See how the historical 1 year mortgage interest rate compares to the 5 year rate
If the average single family residential price in the GTA continues to increase at 4% per year, the average price would be over $500,000 by 2015 and by 2020 the average price will be over $600,000!
Update: The figures are in for 2012 and the average price was $479,000, I've updated the graph below to reflect these changes....stay tuned!
Current Average price for a single family home in the GTA is $427,000

Estimated average price by year 2015 is $525,000!

By 2020 average price estimate is $638,000!

Of course these are only estimates, but it shows that if the current trend continues prices will be well over $600,000 by 2020

When I first made this graph in 2007, the data showed that if Average prices continued to increase from end of 2007 at 4% per year, the average price would be over $475,000 in 6 years ( 2013) Now the data shows $485,000 for 2013!
In the beginning of 2007 I made the same graph below and if Average prices continued to increase from 2006 at 4% per year, the average price would be over $460,000 in 7 years ( 2013)

The graph below is one that I made about a year ago and shows how times have changed in 2 years

Breaking down the total Numbers into TREB Areas for this month
Please browse here if you wish to see all the TREB Sales stats for 2007
This graph shows the 1989 real estate recession in the GTA and how long it took to recover from the drop in the average price from the peak price in February of 1989 to 2002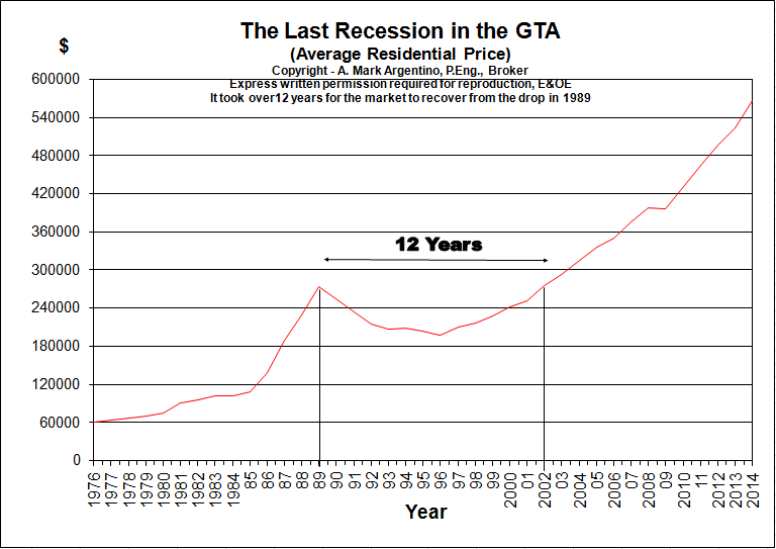 ---
This is a graphical representation showing the percentage of homes that sold in each price range.
Note the shift when you compare this month to 2 years ago, quite significant!

What different properties sold for in March of 2011
August 2010
August of 2008
January 2011
December 10, 2013

Region

Area Sales

Av. Price

East

123

$278,453

West

221

$323,384

Central

88

$432,270

North

93

$375,131

Total

525

$340,275

NOTE: Please note these are preliminary figures. Minor adjustments may be required at month's end.
Latest sales report for November 2010
latest Sales Report - August 26, 2010

| | | Average Price |
| --- | --- | --- |
| East | 329 | $327,637 |
| West | 555 | $392,685 |
| Central | 266 | $454,598 |
| North | 337 | $475,755 |
| | 1,487 | $408,194 |
NOTE: Please note these are preliminary figures. Minor adjustments may be required at month's end.
For comparison purposes, see last year in February below.
February 28, 2008

Region

Area Sales

Average Price

East

391

$300,867

West

627

$358,062

Central

268

$504,817

North

300

$419,670

Total

1,586

$380,654

NOTE: Please note these are preliminary figures. Minor adjustments may be required at month's end.
* All figures above for Single-Family Dwellings.
Spot sales figures
Last month December 2008 Sales figures
993 sales were reported in TREB's 28 West districts and averaged $338,855
473 sales were reported in the 14 Central districts and averaged $479,095
491 sales were reported in the 23 North districts and averaged $381,975
620 sales were reported in TREB's 21 East districts and averaged $291,488
Neighbourhood Corner - Mississauga - Each month The Toronto Real Estate Board profiles a neighbourhood and you may read how the market
Mississauga January 2008
There were 647 sales in Mississauga this January, a decline of three per cent over the first month of 2007. The average price came in at $339,655, a one per cent increase over the same time-frame last year. Of these sales, 196 were of detached homes which averaged $516,190, up eight per cent over January '07.
Mississauga 2006
Mississauga (MLS districts W12 to W20) had 608 sales in January, up seven per cent over the figure recorded in January of 2005. These sales averaged $305,464, a two per cent increase over last January. Breaking down the total, there were 201 sales of detached homes, which averaged $448,889; there were 171 sales of condominium apartments, and the average for these was $193,481.
Mississauga 2005
There were 569 sales in the Mississauga area during January, down 12 per cent from the figure recorded in January of 2004. The average price, however, rose seven per cent to $298,503. Breaking down the total, detached homes in Mississauga (203 sales) averaged about $418,655, while semis (121 sales) came in at $279,025.
Neighbourhood Corner January 2004 for Mississauga
The Mississauga area (W-12 through W-20) registered 645 sales in January, down 10 per cent from the 721 recorded during the same time-frame in 2003. However, the overall average in Mississauga came to $277,594, up seven percent over the $259,207 recorded in January of last year. Average days-on-market was 43, about the same as the Board-wide figure of 42.
Neighbourhood Corner Information - Mississauga (from January 2003)
In Mississauga (W-12 to W-20) the latter half of this year saw prices climb 10 per cent to $256,824 over the $233,151 recorded for the whole of 2001. Average Days-on-Market in Mississauga was 34, as compared to a city-wide average of 38 days.
---
Rental Market indicators in the GTA
---
This chart shows the breakdown of single family residential sales for last month.

Archived issues of my TREB Market Watch reports
Excellent, I am ready for an online evaluation
Mississauga MLS Real Estate Properties & MLS.CA Homes for Sale | All Pages including Mississauga Real Estate Blog all maintained by info@mississauga4sale.com Copyright © A. Mark Argentino, P.Eng., Broker, RE/MAX Realty Specialists Inc., Brokerage, Mississauga, Ontario, Canada L5M 7A1 (905) 828-3434 Google First created - Tuesday, July 16th, 1996 at 3:48:41 PM - Last Update of this website: Thursday, July 4, 2019 8:18 AM
At this Mississauga, (Erin Mills, Churchill Meadows, Sawmill Valley, Credit Mills and / or Meadowvale ) Ontario, Canada Real Estate Homes and Property Internet web site you will find relevant information to help you and your family.
---
Real Estate Market Watch Newsletter
Why Subscribe?
You will receive valuable Real Estate information on a monthly basis - such as: where to find the 'best' mortgage interest rates, Power of Sale Properties and graphs of current house price trends. Plus, you will pick up ideas, suggestions and excellent real estate advice when you sell or buy your next home. Read Past Newsletters before you decide
Privacy-Policy