You are here:
The graph below clearly shows the pattern of the annual real estate cycle for Toronto, the GTA in Ontario over the past 22 years.
This graph shows the cycle of how average price increases in the late winter and early spring, decreases during the summer months, increases again in the fall (but usually not as high as the highest price in the spring) and then decreases again over the early winter months. The cycle repeats itself with near certainty, year after year and has done so since at least 1995. When will this regular price increase stop? Nobody knows for sure, but it's a very interesting trend to see the seasonal fluctuations in home prices.

The only period that didn't show this regular increase was late 2008 to early 2009 during the Global Financial Crisis when housing prices fell more than 50% in some markets in the USA and elsewhere. We only experienced a small downward 'blip' in our prices and then the steady increase began again in the spring of 2009

The graph below shows average single family residential prices of homes for the Toronto Real Estate Board. Or, maybe you would like to see the average prices of single family residential homes since 1985
This graph below looks great on a high resolution monitor, but I have downsized the graph for those that have older monitors. (I need to continually adjust the scale on the left (y-axis) as the average price continues to climb, which compresses the compresses the peaks and valley in the first 15 years shown on the graph - amazing for me to see this constant increase!) Please click anywhere in the graph below to see a clear and full size version in a new window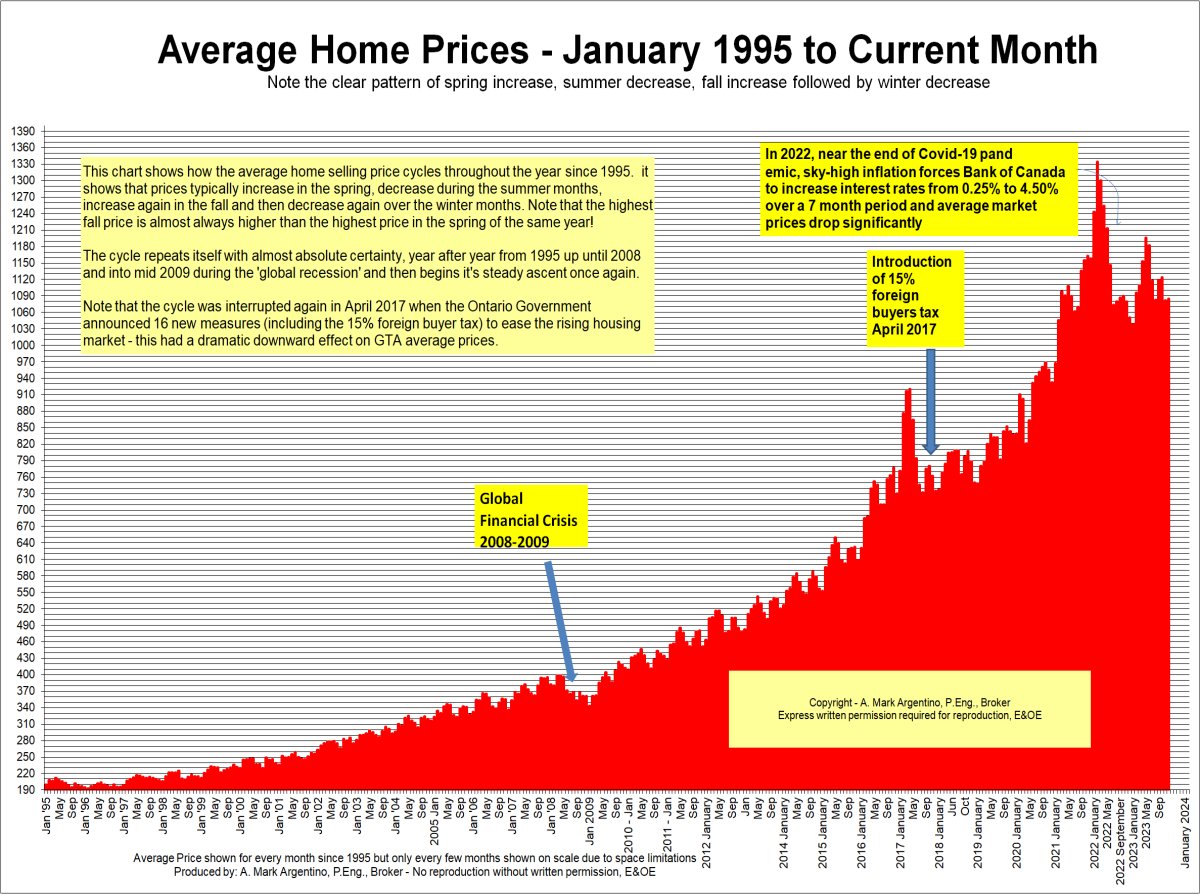 Minimum down payment of 5% of the purchase price or appraised value, whichever is less
Down payment must be from customer's own resources or an outright financial gift from immediate relatives
If the minimum equity requirement is being met by way of a financial gift, the funds must be in the possession of the borrower at the time of application.

Mississauga MLS Real Estate Properties & MLS.CA Homes for Sale | All Pages including Mississauga Real Estate Blog all maintained by info@mississauga4sale.com Copyright © A. Mark Argentino, P.Eng., Broker, RE/MAX Realty Specialists Inc., Brokerage, Mississauga, Ontario, Canada L5M 7A1 (905) 828-3434 Google First created - Tuesday, July 16th, 1996 at 3:48:41 PM - Last Update of this website: Thursday, July 4, 2019 8:18 AM
At this Mississauga, (Erin Mills, Churchill Meadows, Sawmill Valley, Credit Mills and / or Meadowvale ) Ontario, Canada Real Estate Homes and Property Internet web site you will find relevant information to help you and your family.
---
Real Estate Market Watch Newsletter
Why Subscribe?
You will receive valuable Real Estate information on a monthly basis - such as: where to find the 'best' mortgage interest rates, Power of Sale Properties and graphs of current house price trends. Plus, you will pick up ideas, suggestions and excellent real estate advice when you sell or buy your next home. Read Past Newsletters before you decide
Privacy-Policy