You are here:
Historic Canadian Mortgage Interest Rates graph
This graph below shows the average Canadian mortgage interest rate

Canada average 5 year mortgage interest rates since 1951 to date graph, click the graph below to have only the graph open up in a new window so you may print it.

The Bank of Canada Prime Lending Rate now stands at 2.95% an increase for the first time since 2010 read more As of January of 2015 the Bank Prime Rate was 3.45% historic low rate from prime rate in Canada, the Bank of Canada Prime rate is 1.25% , that is exceptionally low! Just in case, please Check here to see what the current rate is today.
What is meant by the term BANK PRIME RATE?

Current 'posted' mortgage interest rates
This is a graphical representation of Historical Canadian mortgage interest rates from 1979 to date.
This is an excellent link to view and compare Today's Low Canada and Ontario Current Mortgage Interest rates from major lenders for discounted, variable, fixed and prime rates in Canada and a mortgage calculator

Click graph below to open a full size detailed image in new window
---
Should I go short or long term on my mortgage - comparison of rates over time
You can compare Short or long term mortgage rates here.

Another very interesting relationship is how the 1 year and 5 year mortgage interest rates compare over time. People often ask me if they should choose the short term rates or lock in for the long term rates with their mortgage. The answer is not simple and often depends upon your personal situation and your risk tolerance, read more about locking in your mortgage for the long or short term. The graph below may give you some insight into what you may wish to do by comparing the difference between the short and long term rates over the past decade or so and how the difference fluctuates.

Click graph below to open a full size detailed image in new window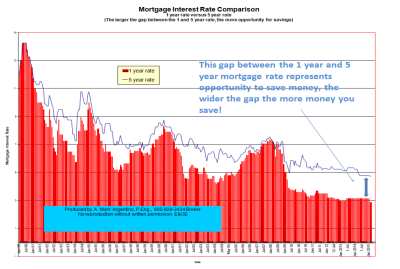 Mortgage Interest rates are still very low compared to previous decades!

Best mortgage rates
Today's Mortgage Rates
Term
Rate
1 Yr closed
3.34%
2 Yr closed
3.59%
3 Yr closed
4.15%
4 Yr closed
4.89%
5 Yr closed
5.14%
5 Yr Variable
3.47%
5 Yr Open
Variable (+1.8%)
5.27%
Current Bank of
Canada Prime Rate
1.25%
Current Bank
Lending Prime Rate
3.45%
See Best Rates
Find the current BEST MORTGAGE Rates Here
OR you can find A mortgage that's right for you from the lowest to highest and Current mortgage rates. Fixed rate and variable Canadian mortgages, Mortgage Rate Directory, Low Mortgage Rates, Today's Mortgage Rates, Discounted Mortgage Rates, Mortgage Rate info, Mortgage Tips & Advice, Ontario Mortgage Rates and more at this best rate page.
Excellent, I am ready to begin my home search
Mississauga MLS Real Estate Properties & MLS.CA Homes for Sale | All Pages including Mississauga Real Estate Blog all maintained by info@mississauga4sale.com Copyright © A. Mark Argentino, P.Eng., Broker, RE/MAX Realty Specialists Inc., Brokerage, Mississauga, Ontario, Canada L5M 7A1 (905) 828-3434 Google First created - Tuesday, July 16th, 1996 at 3:48:41 PM - Last Update of this website: Thursday, February 1, 2018 9:30 AM
At this Mississauga, (Erin Mills, Churchill Meadows, Sawmill Valley, Credit Mills and or Meadowvale ) Ontario, Canada Real Estate Homes and Property Internet web site you will find relevant information to help you and your family.
---
Real Estate Market Watch Newsletter
Why Subscribe?
You will receive valuable Real Estate information on a monthly basis - such as: where to find the 'best' mortgage interest rates, Power of Sale Properties and graphs of current house price trends. Plus, you will pick up ideas, suggestions and excellent real estate advice when you sell or buy your next home. Read Past Newsletters before you decide
Privacy-Policy

'51 data