You are here:
Contact Information, Map, Directions and Contact Information for Mark Argentino's RE/MAX Office
A. Mark Argentino Real Estate Broker, Professional Engineer Ontario
Specializing in Residential & Investment Real Estate
RE/MAX Realty Specialists Inc.
2691 Credit Valley Road, Suite 101, Mississauga, Ontario L5M 7A1

( BUS 905-828-3434
2 FAX 905-828-2829 ÈCELL
TOLL FREE NORTH AMERICA: 1-866-838-3434

> E-MAIL info@mississauga4sale.com
Website: Mississauga4Sale.com

See more Google Maps at this website
· Townhomes in Erin Mills
· NEW!Churchill Meadows Townhomes
· All Mississauga Townhomes
· Townhomes in Meadowvale
· Townhomes Central Mississauga

· All Condos in Mississauga
· Condos in West Mississauga
· Condos near #10 and Eglinton
· Condos South&East of Square1
· Condos Square One & Webb Dr

· My Recent Sales
· My Listings Only

Send me a short email message directly to my cellular phone
Maybe you are looking for investment real estate properties in mississauga, if this is so, then you may wish to fill out my online investment buyers form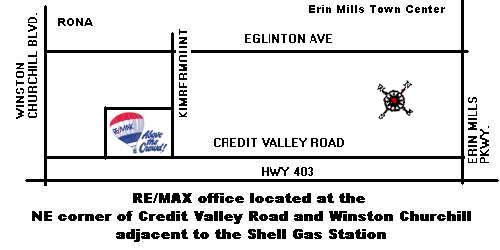 Where is Mississauga?
Find any street in Mississauga and see where it is on the map!
Great search tool provided by the City of Mississauga, see here
TOLL FREE NORTH AMERICA: 1-866-838-3434
---
Real Estate Market Watch Newsletter
Why Subscribe?
You will receive valuable Real Estate information on a monthly basis - such as: where to find the 'best' mortgage interest rates, Power of Sale Properties and graphs of current house price trends. Plus, you will pick up ideas, suggestions and excellent real estate advice when you sell or buy your next home. Read Past Newsletters before you decide
Privacy-Policy

Mississauga MLS Real Estate Properties & MLS.CA Homes for Sale |All Pages including Mississauga Real Estate Blog all maintained by Copyright © A. Mark Argentino, P.Eng., Broker, RE/MAX Realty Specialists Inc., Brokerage, Mississauga, Ontario, Canada L5M 7A1 (905) 828-3434 Google First created - Tuesday, July 16th, 1996 at 3:48:41 PM - Last Update of this website: Thursday, October 1, 2015 9:36 AM
At this Mississauga, (Erin Mills, Churchill Meadows, Sawmill Valley, Credit Mills and or Meadowvale ) Ontario, Canada Real Estate Property Internet web site you will find relevant information to help you and your family.