You are here:
TREB (Toronto Real Estate Board) Average Single Family Historical Home Prices and trends for Toronto and Mississauga
Report on last months News

GTA Resale Housing Sales Up
GTA REALTORS® Report Resale Market Figures
This charts below show the historical annual price and sales volumes to current month:
Report as of Sunday, August 13, 2017

In this Issue of my newsletter
The average prices and the number of sales, once again, both were very strong last month.
Year over Year Summary Table (to date)

This is the report for latest month in real estate sales from the Toronto real estate board and indicates a 'normal' amount of activity and price levels.

Below is the latest release of figures
Highlights of the latest report from TREB for the Residential Real Estate Market in the GTA

The average selling price last month was $770,745 (it was $730,472 the previous month) compared to January of last year. and this represents aver a 22.3% increase compared to the same month last year- see graph of prices here


The overall average selling price for calendar year 2016 was $729,922 – up 17.3 per cent compared to 2015


Greater Toronto Area REALTORS® reported 5,188 residential transactions through TREB's MLS® System in January 2017. This result was up by 11.8 per cent compared to 4,640 sales reported in January 2016



See more at this page about average prices and read the TREB full price and data report below.

PRESS RELEASE: Sales & Price Growth Continue last month

See the full press release below.

Please refer to this page to see a graph of Average prices and More

This is the full price and data report from TREB for last month

November Home Sales Up Year-Over-Year

GTA REALTORS® RELEASE MONTHLY RESALE HOUSING MARKET FIGURES

Sales Up and Listings Up last month

Market Continued to Adjust in July

August 3, 2017 -- Toronto Real Estate Board President Tim Syrianos announced that Greater Toronto Area REALTORS® reported 5,921 residential transactions through TREB's MLS® System in July 2017. This result was down by 40.4 per cent on a yearover- year basis, led by the detached market segment – both in the City of Toronto and surrounding regions.While sales were down, the number of new listings reported were only slightly (+5.1 per cent) above last year's level.

"A recent release from the Ontario government confirmed TREB's own research which found that foreign buyers represented a small proportion of overall home buying activity in the GTA. Clearly, the year-over-year decline we experienced in July had more to do with psychology, with would-be home buyers on the sidelines waiting to see how market conditions evolve," said Mr. Syrianos.

"Summer market statistics are often not the best indicators of housing market conditions. We generally see an uptick in sales following Labour Day, as a greater cross-section of would-be buyers and sellers start to consider listing and/or purchasing a home. As we move through the fall, we should start to get a better sense of the impacts of the Fair Housing Plan and higher borrowing costs," said TREB CEO John DiMichele.

The MLS® Home Price Index (HPI) Composite Benchmark price was up by 18 per cent on a year-over-year basis. However, the Composite Benchmark was down by 4.6 per cent relative to June. Monthly MLS® HPI declines were driven more so by single-family home types. The average selling price for all home types combined was up by five per cent year-over-year to $746,218.

"Home buyers benefitted from more choice in the market this July compared to the same time last year. This was reflected in home prices and home price growth. Looking forward, if we do see some would-be home buyers move off the sidelines and back into the market without a similar increase in new listings, we could see some of this newfound choice erode. The recent changes in the sales and price trends have masked the fact that housing supply remains an issue in the GTA," said Jason Mercer, TREB's Director of Market Analysis.

All the Best!

Mark
This chart plots the monthly MLS average home price for the current year and the previous three years. The recurring seasonal trend can be seen along with comparisons to previous years for each month. You can click the thumbnail below to see a larger printable version. As well, you can see the season trends in graphical form
I hope this finds you Happy and Healthy!
All the Best!
Mark
Read about Housing market indicators from last month
Summary of TorontoMLS Sales and Average Price
Sales by housing type
| | |
| --- | --- |
| | Below is a Graph showing TREB Historical Average Price Data |
| | |

See the Average Price Cycles from January 1995 to Date - a very interesting cyclical pattern is clearly seen!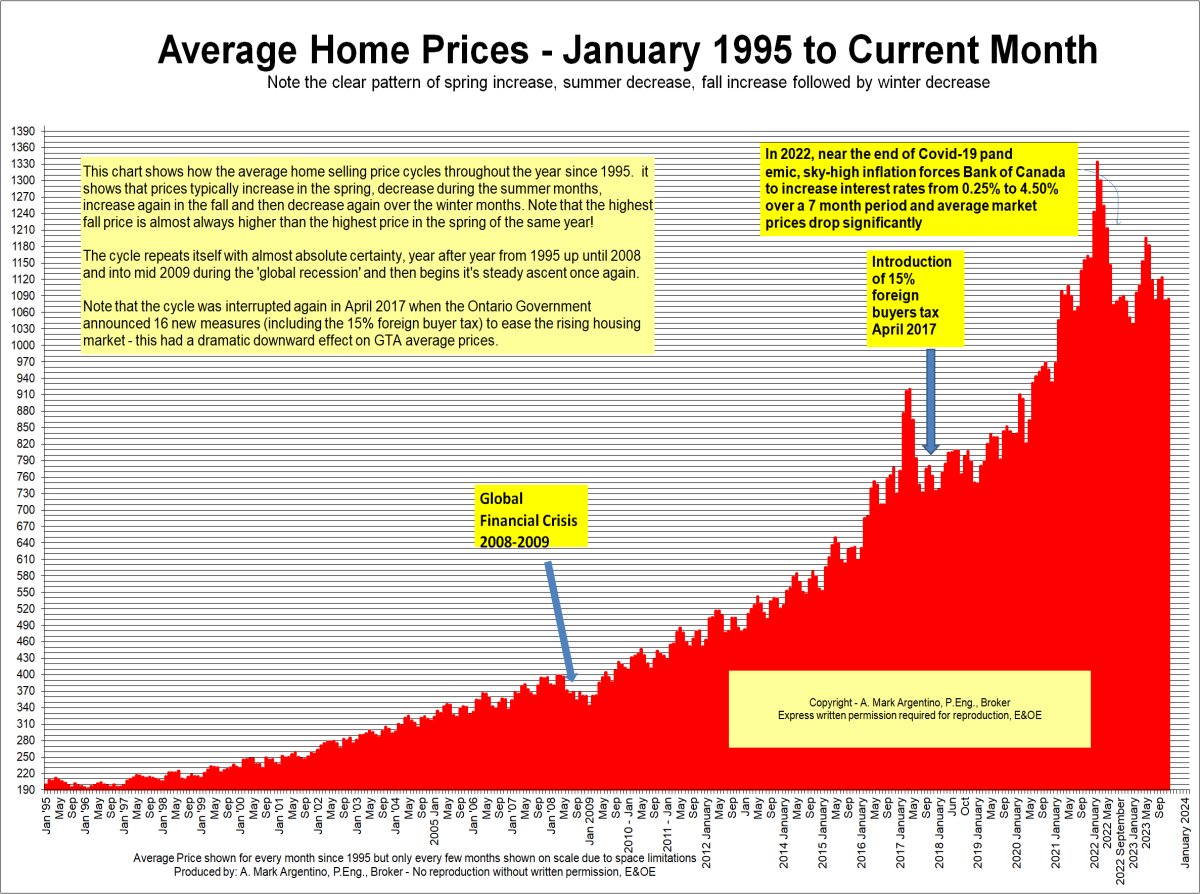 See how the historical 1 year mortgage interest rate compares to the 5 year rate
If the average single family residential price in the GTA continues to increase at 4% per year, the average price of homes in the GTA is estimated to be $717,000 by 2020 and by 2026 the average price will be over $900,000!
Update: The figures are in for 2012 and the average price was $479,000, I've updated the graph below to reflect these changes....stay tuned!
Below is the estimate as of 2016
Below is the estimate as of 2012
Current Average price for a single family home in the GTA is $427,000

Estimated average price by year 2015 is $525,000!

By 2020 average price estimate is $638,000!

Of course these are only estimates, but it shows that if the current trend continues prices will be well over $600,000 by 2020

When I first made this graph in 2007, the data showed that if Average prices continued to increase from end of 2007 at 4% per year, the average price would be over $475,000 in 6 years ( 2013) Now the data shows $517,190 for 2013!
In the beginning of 2007 I made the same graph below and if Average prices continued to increase from 2006 at 4% per year, the average price would be over $460,000 in 7 years ( 2013) - the Actual average was $523,036 for 2013!

The graph below is one that I made in 2013 and shows how times have changed in a few short years

Breaking down the total Numbers into TREB Areas for this month
Please browse here if you wish to see all the TREB Sales stats for 2007
This graph shows the 1989 real estate recession in the GTA and how long it took to recover from the drop in the average price from the peak price in February of 1989 to 2002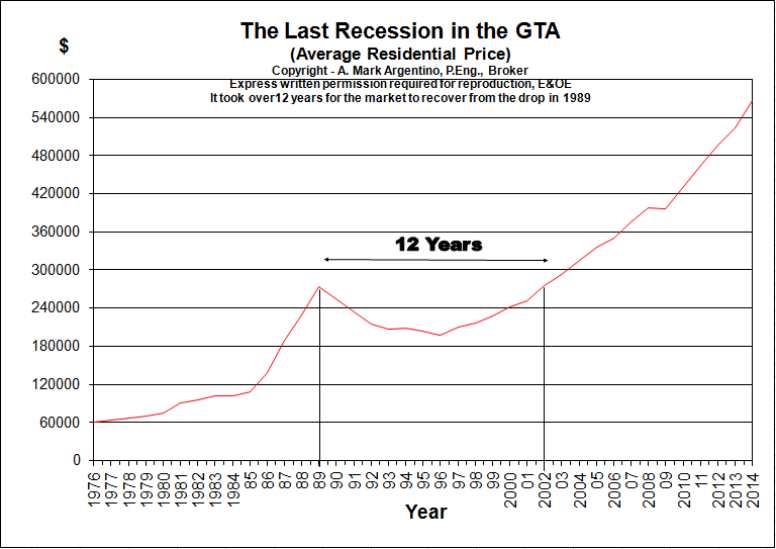 Economic Indicators
Statistics Canada, Quarter-over-quarter growth, on an annual basis, Statistics Canada, Year-over-year growth for the most recently reported month, Bank of Canada, Rate from most recent Bank of Canada announcement Bank of Canada, Rates for most recently completed month
TREB (Toronto Real Estate Board) Boundaries Districts and Service Districts and Areas
Historic Sales Figures
Rental Market indicators in the GTA
---
This chart shows the breakdown of single family residential sales (detached, semi's, townhomes and condos) for last month.

TREB MLS® Active Residential Listings at Month-­‐End
Archived issues of my TREB Market Watch reports
Excellent, I am ready for an online evaluation
Mississauga MLS Real Estate Properties & MLS.CA Homes for Sale | All Pages including Mississauga Real Estate Blog all maintained by info@mississauga4sale.com Copyright © A. Mark Argentino, P.Eng., Broker, RE/MAX Realty Specialists Inc., Brokerage, Mississauga, Ontario, Canada L5M 7A1 (905) 828-3434 Google First created - Tuesday, July 16th, 1996 at 3:48:41 PM - Last Update of this website: Thursday, July 4, 2019 8:18 AM
At this Mississauga, (Erin Mills, Churchill Meadows, Sawmill Valley, Credit Mills and / or Meadowvale ) Ontario, Canada Real Estate Homes and Property Internet web site you will find relevant information to help you and your family.
---
Real Estate Market Watch Newsletter
Why Subscribe?
You will receive valuable Real Estate information on a monthly basis - such as: where to find the 'best' mortgage interest rates, Power of Sale Properties and graphs of current house price trends. Plus, you will pick up ideas, suggestions and excellent real estate advice when you sell or buy your next home. Read Past Newsletters before you decide
Privacy-Policy